Frequently Asked Questions
What type of curriculum do you offer?
Our curriculum is based on the Creative Curriculum and aligned with the RI Early Learning Standards. The curriculum is individualized for children and planned to address the eight domains: Approaches to Learning, Social and Emotional Development, Language Development and Communication, Literacy, Mathematics, Science, Creativity, and Physical Health and Development.

Does the schedule provide for both group time and independent exploration?
The group schedule is planned to include group time with the teacher for activities such as: circle time, music, reading a story, etc. The children also have daily opportunity to visit learning areas of their choice in the classroom, such as: dramatic play center, block center, writing center, creativity center, science center, and math center.

Do the children play outside?
The schedule provides for outdoor play daily in the morning and in the afternoon, weather permitting. In the winter time, the children play outside if the temperature reaches 32 degrees and above, even if there is snow on the ground. Outdoor play is beneficial in helping to prevent the spread of germs. We ask that you provide appropriate clothing with the expectation of outdoor play each day.

What is your philosophy on caring for children?
Inherent within our philosophy are the following principles:
Play is a child's foremost avenue for learning.
Learning is an interactive process, and we must prepare the environment for children so that they will learn through active exploration.
Observation-based assessments are the best way to evaluate a child's progress.
Every child is an individual with different styles of learning.
A family is the first and most important teacher in a child's life. We work together with you to support your child's growth and development.
Professional development is of prime importance in maintaining a quality teaching staff.

What is your mission statement?
Breezy Knoll Child Care Center aspires to be instrumental in making a child's first experience away from home a positive one, setting the stage for future success at school. We strive to assist and support our families in caring for and teaching their children and to make a contribution to our community.

What are the teacher:child ratios?
The ratio for Toddlers is 5:1, for 3 years 9:1, for 4 years 10:1, for 5 years (Kindergarten) 12:1, for School Age (6 -10 yrs.), 13:1.

How is discipline handled?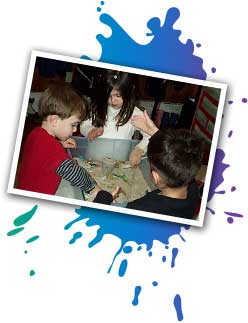 It is Breezy Knoll's philosophy that children need guidance in learning to make their own positive choices, to solve their own problems, and to express their feelings in an acceptable manner. It is important for children to know what is expected of them, and the reasons for those expectations. Most rules in our child care center concern the safety of the children. The positive ways in which discipline is handled are as follows:
Redirection: A child who is disruptive in a particular activity is guided into a new activity whenever possible. Offering choices to a child gives him/her a sense of control and usually wards off an undesirable behavior.
Conflict Resolution: Every effort is made to encourage children in conflict with one another to work it out themselves. The teacher will guide them in identifying the problem, coming up with ideas to solve the problem, and then to decide on a solution.
Positive Reminders: During the day reminders are used to ward off unwanted behavior, for example, "We walk indoors, we run outdoors", and "Use the crayons on paper, not on the floor".
Time Away: If a child becomes disruptive within a group, but is not a threat to the safety of others, s/he is given Time Away from the group to work on another activity in order that the child may become less agitated and more focused. When he/she is ready to join in the planned activity, the child is invited to rejoin the group.
Time Out: Our last alternative in the practice of discipline is Time Out. It is used only when the child is out of control and is a threat to the safety of the other children, for example biting, hitting, pushing, etc. The child is removed from the group for time alone to calm him/herself, usually one minute for each year of the child's age.
Not all children can be taught by the same methods; the same may be said for discipline. We feel it is an important part of our curriculum to guide individual children in understanding their feelings and learning to follow directions. Consistency places a major role in guidance.

Is there communication between teachers and families?
We provide effective two-way communication. The ways include: a family handbook, family boards, daily communication with a child's teacher in different ways, monthly newsletters, and a daily report of a Toddler's day. Weekly preschool updates are sent home on Friday listing the activities offered during that week. Parent-teacher conferences are offered at any time during the year. Parents are also encouraged to call at any time during the day to check on their child.

Is there opportunity for family involvement in the program?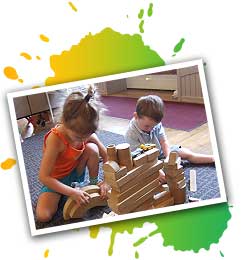 Breezy Knoll respects a parent's role as the first and foremost teacher in a child's life. Together, we set learning goals for each child. Through a family survey, information regarding culture and traditions important to the family is collected and respected. With that information, teachers plan the curriculum.
Family involvement in our program is greatly welcomed! Some parents enjoy visiting to read to their child's group, while others chaperone on a field trip. Many families provide highly appreciated donations of craft items or healthy snacks.
We greatly value our partnership with families to support a child's growth and development and learning.

What kind of security measures are in place?
Breezy Knoll's doors are locked everyday from 9:00am to 12:00pm. They are opened from 12:00pm -12:30pm for the half-day pickup time, and then locked again until 3:00pm. Visitors may enter by the front door only and are immediately greeted by one of our administrative staff.
Your child will be released only to the people listed on your application form upon enrollment. Those authorized will need proper picture identification. You may add/delete authorized release designates at any time.

Are snacks/meals provided?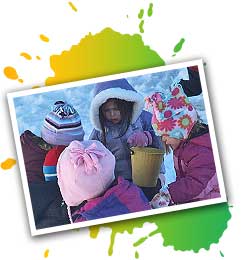 We ask that parents provide two light and healthy snacks for the morning and afternoon if your child attends full day (one for half day). We provide 100% fruit juice to accompany snacks, both morning and afternoons. Families provide children's lunches that are kept cold with an ice pack. We offer milk or juice at lunch time for $.25 a day. To celebrate a child's birthday, families may bring in a treat to be served at snack time. We request that you send in only store-bought foods which are labeled with nutritional information. With that information, we will be able to better determine if the snack is safe for all to eat. Some suggestions for snacks: vegetables and dip, fruit slices, unsweetened cereals, graham crackers, yogurt, and jello or pudding cups.

Are there many changes in the teaching/administrative staff?
We are very proud of the longevity of our staff. In a staff of fourteen, our combined years of service number 174.

Do the teachers have current CPR and First Aid certification?
All of our teachers are certified in both CPR and First Aid and are recertified when necessary.

How is nap time handled?
We have a quiet time period daily from 12:30pm to 2:30pm. The children rest on cots with bedding supplied by the family. All quiet time belongings are kept in a cloth bag labeled with your child's name and provided by Breezy Knoll. We ask that all quiet time items be washed weekly. The shades are drawn, soft music is played, and the teachers rub the backs of children who have difficulty falling to sleep.

What is the policy for a sick child?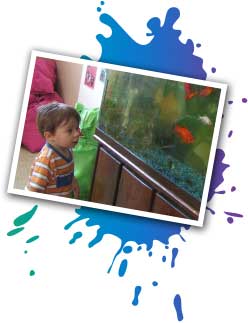 If your child shows signs of illness before he/she arrives at the center and you do not think that he/she will get through the day, please act accordingly. Your child should be kept home if he/she shows signs of the following:
Fever (100 degrees)
Vomiting or diarrhea
Heavy nasal discharge, draining eyes or ears
Consistent, chronic cough
Rash

All parents will be notified if any type of contagious disease such as chicken pox is discovered at the center. Please call the center if you ever have any questions about illness.

What in the policy for administering medications?
We will only administer PRESCRIPTION medication orally to a child. It must be in the original container and accompanied by a dated, signed permission slip, stating the amount of medication and the time the child should receive it. We will keep a log of the dates and times the medication was administered. Topical ointments may also be applied if a medication form is filled out.